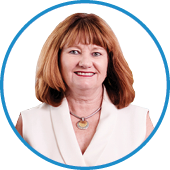 Elaine Wright
Committee Member
Elaine is the Vice President, Treasurer, at Samuel Son & Co, where she manages a dedicated corporate treasury team responsible for global liquidity and debt financing, financial risk management and insurance.
Elaine has over 30 years of financial markets experience, initially working in the South African banking sector as a money and capital markets trader, and later as a corporate treasury professional developing and leading risk and treasury teams in the Canadian energy, food, auto and steel sectors.
An active member of the Canadian Alternative Reference Rate (CARR) working group since 2019, Elaine represents Canadian corporate treasurers, providing their input in the development of CORRA and Term CORRA. She also participates in the CARR Loan Sub-Group, is the current co-chair of the Canadian Treasurers Association (CTA), and a member of the Term CORRA Oversight Committee.
Elaine received her MBA in finance from Heriot-Watt University, is a certified Treasury Professional (CTP) and holds the ACIS designation from the Chartered Governance Institute in Canada.