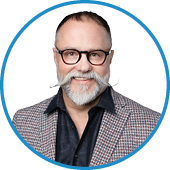 Chad Buffel
Committee Member
Chad's team manages the overall liquidity of EDC. Responsible for the strategic management of EDC's funding programs (including sustainable), and support in FX and ALM functions. manages EDC's $50B debt portfolio. He and his team use derivatives in the form of interest rate swaps, foreign exchange swaps and forwards and cross currency interest rate swaps to manage risk. This $50B portfolio is then provided to small and medium sized businesses in the form of interest-bearing commercial loans.
Chad is also the liability and derivative lead in the corporate LIBOR Replacement Project, including CORRA and he has been leading the EDC's SONIA and SOFR transition over the last two years.
Chad is a member of the leadership team for EDC's Indo-Pacific growth strategy and the founder of EDC's corporate Diversity & Inclusion Committee.
Chad holds an MBA from Queen's University.