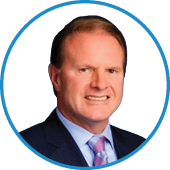 Bill Haines
Vice Chair
Bill recently retired from the Capital Markets industry after 29 years in the business. In his most recent position Bill was a Managing Director and Global Head of Rates Trading at RBC Capital Markets.
Bill was responsible for trading risk for Rates Trading operations in Toronto, New York, London, Hong Kong and Sydney.
Bill began his career at RBC in the Bank Treasury Trading Operation. After tenors at UBS NY and Lehman Brothers NY in the Interest Rates Derivatives field, Bill rejoined RBC Capital Markets running USD Fixed Income derivatives.
Prior to his role as Global Head of Rates Trading, Bill managed various areas of the Fixed Income business including USD Rates Trading, CAD Rates Sales and Trading as well as Co Head Counterparty Risk Trading.
Bill received his Master of Business Administration from the Schulich School of Business, York University. Prior to that Bill graduated with a Bachelor of Business Administration from Brock University in 1987. Bill currently manages WJH Advisors Inc. which provides consulting services pertaining to Global Markets and Derivative related topics along with Expert Witness Consultation.